The Equity Kit is a Package of 3 Catalogs and a DVD or VCR
Price manual listing standard models and options for your lifestyle which help you budget your dream home.
Procedure manual which guides you in ordering and accepting delivery of your factory Direct modular home.
Construction manual details the finishing process along with site sub contractor pricing for your modular home after the erection of the modules.
The DVD takes you on a visual journey of the Factory Direct Program.
View the manufacturing process along with the materials used in the construction of a Modular Home Factory Direct, then witness modular home erections and the finishing process of modules after erection.
Modular Home Factory Direct Program
E-Z PAY WITH PAY PAL
Factory Direct Modular Homes
2219 Church Rd
Toms River, NJ 08753
Call 877-233-3133
$$  SAVE THOUSANDS  $$
Start your Factory Direct Journey Today
25 YEARS OF CUSTOMERS COLLECTIVELY SAVING MILLIONS OF DOLLARS, YOU CAN DO IT TODAY!
---
EQUITY KIT
Complete with DVD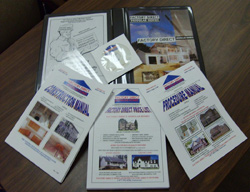 INTERNET SPECIAL:
$89.99
All Three Manuals with DVD
Includes shipping and handling
All major credit cards accepted
PURCHASE TODAY
REQUEST IN DELIVERY INSTRUCTIONS FOR AN E-CATALOG LINK AND IT WILL BE EMAILED WITH IN 24 HRS
$AVE THOU$AND$ DVD
The Factory Direct Journey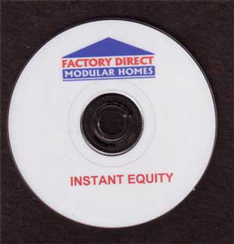 INTERNET SPECIAL:
$19.99
DVD will visually take you through a Factory Direct journey from the ordering of a factory direct home to the completion of a factory direct home. View the manufacturing facility, live sets and the finishing process of a modular home factory direct. "Instant Equity" is the modular home factory direct guarantee!!
FACTORY DIRECT PROCEDURE MANUAL
Complete Manual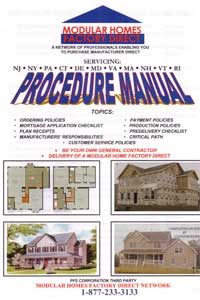 PRICE:
$19.99
It reviews the factory direct ordering policies, payment policies, the plan process from preliminary floor planning to certified floor plan, production policies, pre-delivery checklist, and customer service policies. Order and take Delivery of your Modular Home with confidence
Factory Direct Procedure Manual
CONSTRUCTION MANUAL
Over 100 pages of priceless experience
"Site to Finish U-Can Do -It" Construction Manual
INTERNET SPECIAL:
$34.99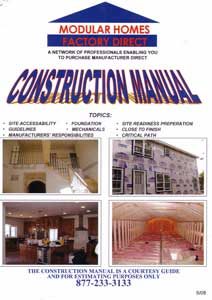 Utilizing my "25 years of experience" with and in the modular home industry I have designed the Construction Manual to help you every step of the way. I am confident that your modular home factory direct journey will be successful and save you thousands of dollars. The information contained in The Modular Home Factory Direct Construction Manual is designed to guide you, the customer, to successfully complete the finishing construction of a modular home. By following the manual, you can establish a good working pattern as you prepare to receive and complete the modular. Construction sequences and important fastening details have been described and potential problems identified so that the construction will proceed quickly and efficiently.
The construction manual is composed of these major functions required to complete construction:
Sale - to Modular Delivery - to Site
Permit expedition/ Site Preparation
Trailer Arrival to Erection
Finishing modular to obtain a CO.
The manual concludes with a series of check lists. The first list is the sequential activities required to complete the finishing process for each of the major module types whether ranch or two stories homes. The second is a listing of the work required completing the factory installed plumbing, electrical, and site installed heating, ventilating and air conditioning for each of the major modular house types. You may want to copy portions of the last section and distribute them to your subcontractors and superintendents, so that they may more fully understand the completion of the modular house. It is recommended that you review a few times the modular house under construction video and observe the work so that you may become familiar with the setting and finishing of a modular house.
Following the critical construction path calendared in the construction manual properly, the modular home building process will amount to great savings and value. Time and overhead savings will improve the dollar amount saved. The manuals containing many years of modular building experiences will guide you through a pleasant factory direct experience.
MHFD PRICING MANUAL
"Budget A Factory Direct Home" with our
Pricing Manual
PRICEE:
$34.99
Individually not available. Available only in kit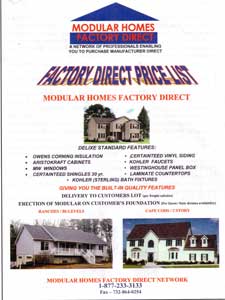 It gives you the opportunity to budget your MHFD project. Chose your model and options at your leisure deciding on the lifestyle and budget that works for you!! Over a hundred models with floor plans consisting of Ranches, Bi-Levels, Two Stories and Capes to choose from. Options galore with factory direct pricing! New for the investor, Two Family, Duplexes, Town Homes!
Going "Custom" use the pricing manual as a guide in pricing your custom home with custom options that are available, Choose Designer Kitchens, Baths and Windows from manufacturers that are household names like Aristocrat Cabinetry ,Whirlpool, Kohler, American Standard, Sea Gull Lighting, Anderson or Pella Architectural Windows , Certainteed Shingles, Wolverine Siding, just to name a few.
The pricing manual gives you the ability to price out custom roof pitches with architectural shingles such as 9/12 - 12/12 Hip or 9/12 ,12/12 rafter roofs giving you full attic space. Budget your home while not compromising your lifestyle and save thousands purchasing factory direct today!!